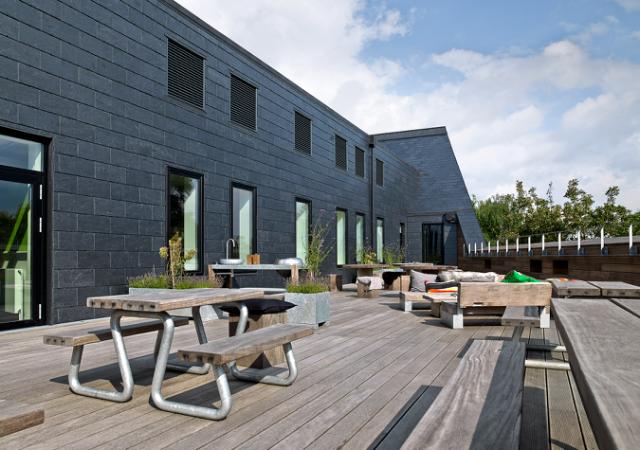 Heavy, Weather Resistant Furniture for the Rooftop Terrace
The perfect furniture for the rooftop terrace is furniture you can use on sunny days year-round and free you from worries. Worries of damage due to rot- and moisture and worries that your furniture will blow away on a stormy day. Here we present to you furniture which meets all these requirements, and that will create a welcoming, diverse terrace environment full of atmosphere!
The Worlds Heaviest Timber
When you choose furniture for the terrace it is imperative that you do not need to worry about the furniture blowing away when it storms, as this can have disastrous consequences. Especially after the increase in frequency of storms in recent years, it is something to take into consideration when decorating your roof terrace.
Azobé wood is among the world's most densely porous, and therefore the world's heaviest species of wood. Even after the wood is cut into planks it still weighs 20kg per m2 and a plank table made from the solid wooden planks will weigh around 100kg per m2 – depending on the table's width – as the table's legs is quite heavy as well. A lounge sofa will weigh a good 120kg per m2, a lounge table around 60kg per m2 and a cube seating block around 70kg.
With furniture in this weight category, you will not need to worry about your furniture blowing over the edge of the terrace in the next storm, and furniture from azobé wood is therefore an obvious choice for furniture on the rooftop terrace.
Furniture From Solid Bulwark Wood
Azobé heartwood has been used in harbour projects throughout Europe, due to the wood's dense porosity and high content of natural oils, which make the wood extremely water repellent. With its water-repellent qualities, the wood is naturally resistant to fungus and rot, and perfect to be used in a damp environment, such as a harbour – or as year-round furniture on the terrace in a Scandinavian climate!
With furniture in azobé wood you are therefore ensured that your terrace furniture will last many years, and you are also free from having to treat the furniture with neither oil nor paint.
Any treatment will not increase the durability of the furniture. You can of course choose to oil your furniture, if that is the look you are going for. However, if you choose to oil your furniture you must consider that it will be necessary to continue as the oil will settle as a stain in the wood when you stop.
Instead, you can choose to sand down the surface of the furniture, if you want to revive the furniture's shine. The easiest way to do that is to use a powerful orbital sander where you sand in the direction of the wood's grain (sandpaper grit 120 – 240). If you sand your furniture down after 10 years, it will look completely new.
However, this type of treatment does not extend the furniture's lifetime, it is only for aesthetics. Your furniture will last without problems for a minimum of 30-50 years (and probably much more) on the terrace without any kind of treatment.
The Lush
With furniture in this weight category, it goes without saying that arranging the terrace is not as flexible as it would be if you used lighter furniture to furnish the terrace with.
Therefore, it is good to carefully consider where the furniture will be placed prior to designing the space – and we would be happy to help you with that if you need some input. We have a woman ready to create a project idea based on your wished elements and needs on the terrace.
However, that doesn't mean that it is impossible to move the furniture around! With a hand truck or a pallet lifter and some manpower everything is possible. To achieve a little flexibility in the everyday you have the option to supplement your design with cubes on wheels, which can be moved around the different areas on the terrace and create life and accommodate different sizes of the party.