How to decorate a beautiful and natural plank table for Christmas
Christmas is just around the corner. It is a time for Christmas parties and get-togethers with family and friends. Before we know it, it will be Christmas day! Impress your Christmas guests and create an exclusive atmosphere by following our simple guide to decorating your plank table:
1) Decorate with conifer clipping and cones
A plank table and conifer clippings are a match made in heaven. The thick wooden planks have a way of inviting nature in to your home and using fir, pine and spruce clippings enhances this because they are, for many, the real essence of Christmas. Decorate the table with different types to celebrate the real diversity of nature. This ensures variety and they simply look great together. Add fir cones and you are well on the way to creating a beautiful Christmas table.
2) Gold
Gold is elegant, simple and beautiful. Millions og women around the world would agree. Gold highlights the natural warmth of the wood, making it ideal when decorating your plank table. Place some gold baubles on top of the conifer clippings or add some gold candle holders to the table, preferably with an organic form, to enhance the natural feel of the table.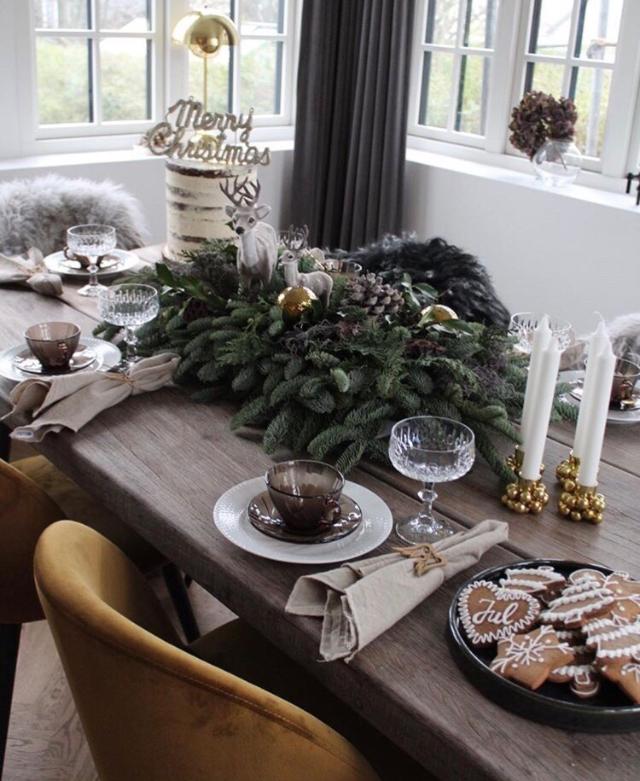 3) Animals
Reindeer are always associated with Christmas. But other animals can also be used when decorating the Christmas table. By including animals in your table decoration, you simply create a natural landscape that can be a beautiful and entertaining kind of decoration, where your guests can go exploring.
4) Cloth napkins
Complete the natural look of the table by adding cloth napkins. A natural colour would be preferable, ensuring the purest expression, but it is also a possibility to add the more traditional colour of the season, adding red to the decoration of your table. Cloth napkins are not only pretty and lovely to use, they are also a good sustainable alternative, in-keeping with the theme of a natural and responsible approach to both the table and its decoration.
5) Champagne saucers
We don't really need to elaborate here! They are a beautiful addition to any table and invite the guests to come and enjoy a glass of champagne or a drink or two. Let the Christmas party begin!