Durable furniture in sustainable materials
Choose a sustainable solution for public areas, using furniture made from upcycled harbour wood. Our furniture is known to be robust, heavy, extremely durable, long lasting and requires minimum maintenance. These qualities can be attributed to the azobé wood's density and richness in natural oils, rendering it extremely robust and practically impermeable. Our designs are timeless, made with functionality in focus.
The wood has been tested by COWI and has been found to be free from chemicals. It is FSC® certified recycled 100%.
All our furniture is made to order, tailor-made to your unique needs.
Adaption for handicapped users possible.
Get inspired by previous customer cases
School on Islands Brygge, Copenhagen
Home economics under the sky. Outdoor furniture that ecourages to social activities. Be inspired by the school on Islands brygge and its fantastic outdoor space.
Youth area, Brædstrup
Heavy, robust outdoor furniture that eliminates the worry of vandalism.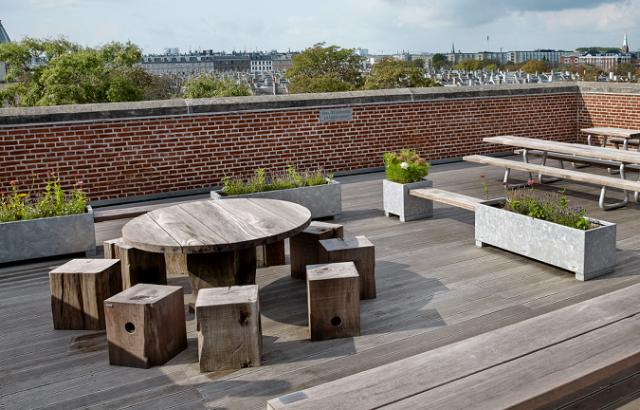 Øster Farimagsgade School, Copenhagen
Recreative and inclusive outdoor spaces. Possibility for moving classes outside. Be inspired by the school's roof terrace in the middle of the town.