Children's furniture created from textile waste
Organic forms. Exclusive details. Robust surface. Solid design. Materials that last. Minnie is the result of a year-long product development project, where we have really paid attention to detail. Its stable design and robust surface makes it perfect for use in both private homes and institutions, where it becomes the perfect place for play as well as meal times.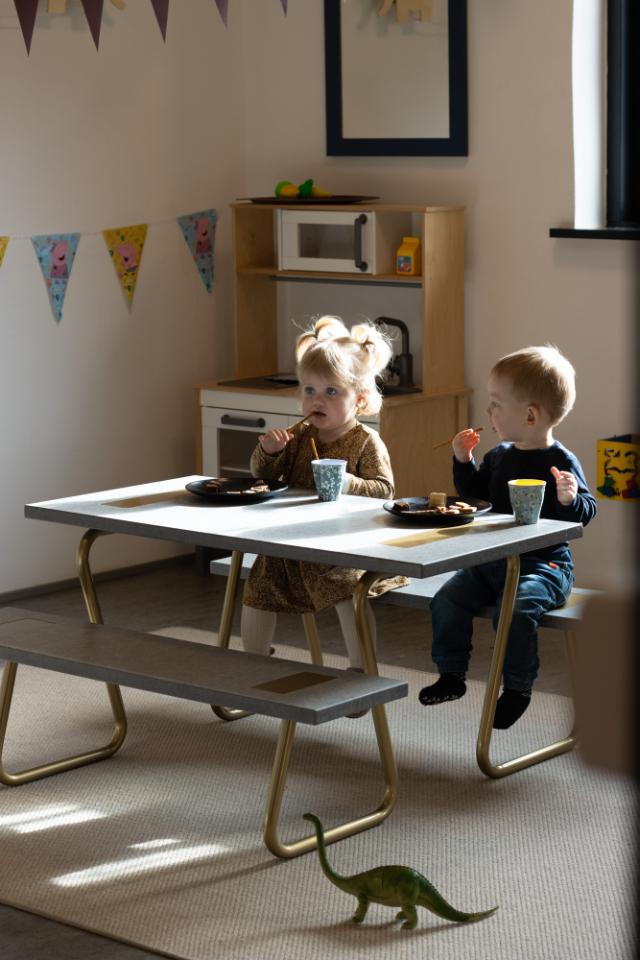 Children's furniture with design in focus
With Minnie, we have taken our time to develop a product where both form and function are a priority. Minnie can be a part of any kind of play, both the physical kind, where the children are crawling on and around the furniture developing their motor skills, and also the calmer activities, where they sit and concentrate. Minnie is also the natural place to enjoy any meal of the day, for both children and adults.
We have not only developed a practical product, we have also spent time on the visual details of the design, so that Minnie is a stylish addition to the room it is placed in. The omega formed frame has been given a brass coating. We have developed a clamping solution to hold the furniture together, which not only creates a smooth finish, but also adds to the life expectancy of the furniture, as there are no screws to weaken the table top's construction.
The bench and table top are created using 75% textile waste. The basic colour is grey, and some of the finely unravelled textile threads are visible, which creates a fantastic effect. This highlights the reclaimed materials and the product's strong profile, with a focus on using all available resources to help protect our planet.
The table top has a smooth flat surface, making it the perfect place for quiet drawing. The surface is also coated with melamine, ensuring a robust finish that means it is resistant to marks and stains and can be cleaned, should there be any stray lines from the colouring pens.
Children's furniture with design in focus
"Both we and our children absolutely love the picnic set! It is hard-wearing and stable and works really well for both play and mealtime. And then it's just incredibly beautiful!"
/ Jannie Agergaard, Agergaards private care arrangement
Children's furniture created with quality materials
Minnie has been designed to be strong, stable, and long-lasting and the end result has all these qualities.
Strength and stability
The frame is made from 5 mm thick metal pipes and should in theory be impossible to bend. The textile tops are tightly pressed and so thick, that a grown man can dance on the table with no problems. (Believe us, we have tested it). We wanted to create a stable table, that allowed for a grown up to sit comfortably with children, and join in their creative activities. And we wanted it to be possible for the children to use Minnie as a base for play, from tag to pirates, and to be able to crawl over the table top and bench and play freely.
Durability
The textile tops are coated with melamine. This ensures a robust surface that is easy to clean. Children can play freely, and use the table without it marking easily. If any marks should occur, most can be removed with a cloth and warm water. Even marks from colouring pens can be removed, our favourite way is using a magic sponge. And permanent marker can be removed using white spirit, but do use this sparingly as it can remove some of the surface finish.
Design
We ended up with a little dining set for a number of reasons, both practical and aesthetic. Aesthetically, we felt that the materials suited each other well, and practically, the dimensions allowed for a stable solution that children can use freely without the fear of it toppling. It has proved to be a big hit with children, providing a great and safe place for them to develop their motor skills. There is also the added advantage that the table and chair are a complete set, so that you don't have to tidy the chairs after use.
Children's furniture created with quality materials
From textile waste to children's furniture
At Thors Design, we specialise in working with harbour wood – extremely robust and strong heart wood called Azobé. We have 21 years of experience of transforming this wood in to exclusive rustic furniture. For this reason, our work with textile waste as a raw material is a completely new experience, but it has been a new challenge that we have thoroughly enjoyed. We have spent a lot of time and energy on this project, and it has led to some great new connections with experts in the field.
Our interest in textiles is inspired by the great potential that we see in it. According to a report from the European Parliament on the 29-12-2020, the amount of clothes each individual buys has increased by 40% since 1996, after a considerable decrease in price which has also meant a reduction in the life expectancy of clothes. In 2020 each European discarded 11 kg of textiles each year on average, and 87% of this is either incinerated or deposited as landfill.
As a company, we have a unique opportunity to promote a circular economy by giving new life to discarded materials. There is a lot of research and experimentation with textile waste at the moment, and this piece of children's furniture is our solution supporting this new development with this resource. The work that is happening in this field is something that we are extremely interested in and have great hopes for in the coming years.
Read more about the thoughts behind Minnie and the journey from textile waste to children's furniture in our blog post below:
"I love that the picic set is created with consideration for our planet, out of recycled textiles - which is an important message and fits in very well with our concept".
/ Jannie Agergaard, Agergaards private care arrangement