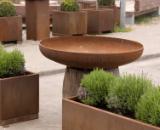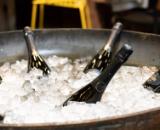 DIO champagne cooler
Unique and exclusive champagne cooler made from untreated steel and robust bulwark from decommissioned Danish wharves. Each piece is unique, with distinct patina and historic details confirming the time it has spent in the Danish harbour environment. Dio has a built-in brass tap so that it can easily be emptied for surplus water.
Dio is made to order, and each piece is unique.
The base will have a large amount of patina and historic detail in the form of cracks, and marks, and may also include bolts or bolt holes. The base can also be shaped as an oversize champagne cork, depending on the raw materials that we are working with at the given time.
The density and strength of the wood makes it suitable for both indoor and outdoor use.
Ø: 70, 100, 150 cm.
H: 60 cm high plinth.
Thickness of metal: Minimum 5 mm.
Weight: Approx. 150 kg.
Materials: Reclaimed azobé wood | untreated steel
The plinth is made with a rustic surface, with patina and historical details.
The wood is certified FSC® Recycled 100% and verified to be free of chemicals. See our FSC® certificate and COWI verification below.