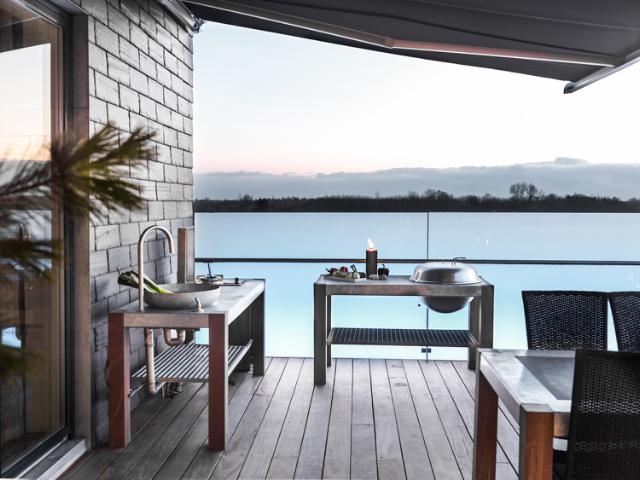 Outdoor kitchens – bespoke to your needs
Prepare your food under open sky with an exclusive, timeless outdoor kitchen tailormade for you. Our outdoor kitchens are made out of weather-resistant quality materials perfect for a Scandinavian climate. They are made to order and specific to you – based on your measurements and wishes.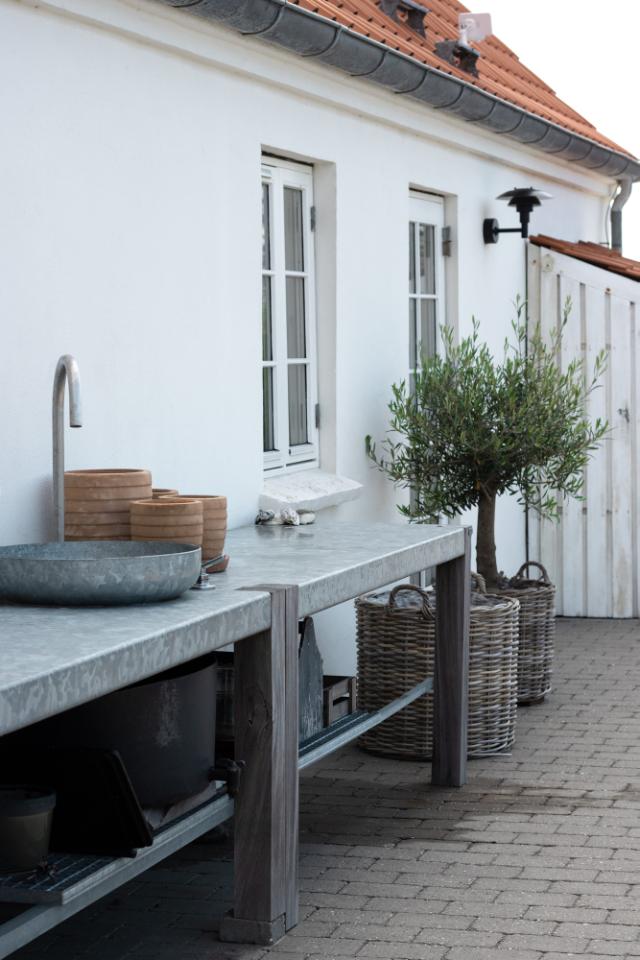 Outdoor Kitchen Made from Quality Materials
A Thors Design outdoor kitchen is built to be used. It is imbued with quality and all materials and details have been chosen based on the interplay between design, durability and function.
Materials
We have two types of outdoor kitchens: our SAVRA outdoor kitchen which consists of a 5mm thick tabletop in hot-dipped galvanized steel and legs made from upcycled azobé heartwood and our NOR outdoor kitchen made entirely from azobé heartwood.
Azobé wood is our primary raw material and is one of the world's strongest and most durable type of wood – even in a damp environment. It is for that reason that azobé wood has been used as bulwarks in harbour projects all over the world, and the reason that it is the perfect material for outdoor furniture in the Scandinavian climate. A tabletop from azobé wood is also cut-resistant and can withstand high heat, which creates the best setting for making food under open sky.
A tabletop in hot-dipped galvanized steel has the same benefits. Also, it creates a surface with a raw and industrial look, which we think, compliments the rustic, upcycled azobé wood well. Especially over time as the surface will patina into a camouflage-like pattern.
Both materials have also the benefit that they are extremely durably, weather-resistant and virtually maintenance free. Your outdoor kitchen does not require oil or paint and is resistant to most forms of stains.
Outdoor Kitchen Made from Quality Materials
"After we bought our outdoor kitchen, we have used every chance there was to prepare our meals outside. It has been an exquisite pleasure to work in the kitchen and with materials of such high quality".
/ Gitte og Teil, tailor-made Nor with sink in galvanized steel
An Outdoor Kitchen with Focus on the Details
In both of our outdoor kitchens we have focused on the details. Our SAVRA outdoor kitchen is industrial, raw, minimalistic and elegant. The surface is thick with rounded edges. On the ends there are holes which fit our hooks made from the same material as the tabletop, and give you the possibility to have aprons, potholders, BBQ equipment and tea towels close at hand.
Under the table there is a grate for storing pots, grill charcoal or waterproof boxes with lids for your most used items in your outdoor kitchen, such as salt, pepper and olive oil. The grate is the same dimensions (70x100 cm) no matter what size table you choose, as having free space allows the possibility to store a gas canister for the grill and other large items. However, if you wish for it, we can install more grates under your table.
SAVRA is designed with a massive steel sink in hot dipped galvanized steel and a cold-water fitting with a C-spout faucet in rust-free steel, both designed by Thors Design. As an elegant detail, the insert used to open and close the water is placed directly into the tabletop. If you want warm water in your SAVRA outdoor kitchen, it is possible to add it. NOR is designed with a flat sink made from powder-coated steel, with a matching cold and warm water faucet with a C-spout.
With the SAVRA outdoor kitchen, it is possible to choose a back wall. The back wall is made with the same materials and the rest of the outdoor kitchen – steel and azobé wood – and makes it possible to have herbs, spices, oil, etc. within reach when you prepare food. It is also possible to purchase additional elements for the back wall from rustic shelves in azobé wood to containers and hooks in steel - making the back wall not only practical but elegant.
NOR outdoor kitchen is made completely from azobé wood and exudes the breath of history. In the legs you will find holes from bolts or other historic details, in addition to cracks, grooves and pronounced patina. The tabletop can be anything from the finely sanded innermost layers of the bulwark to raw with cracks or historical details from the wood's time in the harsh harbour enviroment – according to how you wan the wood to look.
An Outdoor Kitchen with Focus on the Details
Outdoor Kitchen Bespoke to Your Needs
Our mission is to create an outdoor kitchen which you can use all summer and winter and will enjoy and love year after year. We achieve this by using quality materials that are weather resistant, require minimal maintenance and are extremely durable. But we also achieve this by tailoring your outdoor kitchen to your specific needs and wants.
Length and Hight
We will make your outdoor kitchen in the exact length you wish – so it will fit in perfectly on your terrace. In our catalogue you will find some common lengths, but anything is possible, so contact us if you desire your kitchen in another length. The same applies to the height which we can also adapt to your wishes – so we avoid causing you back problems if you come from a particularly long-legged family or that you have to stand on your toes if the opposite is the case.
Sink
Open up for a world of possibilities by adding a sink to your outdoor kitchen. Use it as a utility kitchen after you have harvested vegetables in your garden, quench your thirst without having to take off your shoes, and prepare the evening's entire meal under the open sky! Your SAVRA outdoor kitchen comes with a massive hot dipped galvanized steel sink with an elegant c-spout and a beautiful finish with the open-close function inserted directly into the table top. Your NOR outdoor kitchen comes with a flat steel sink with a black powder coating. You choose which side of the outdoor kitchen the sink will be placed on.
Back wall
For our SAVRA outdoor kitchen, we have designed a back wall which makes the kitchen even more beautiful and elegant – and none the least practical. The back wall gives you the option to have your herbs, spices and kitchen items right within reach when you have to conjure up delicious meals, and soap and a dish washing brush for when you are doing your dishes under open sky. The back wall is made from azobé wood with transverse steel tubes. It is the outdoor kitchens legs which are extended up in the back wall - which makes the back wall a stable and durable structure.
Add-ons – e.g. a grill or side burner
Our outdoor kitchen generally does not have any built-in appliances – but again – anything is possible! Are you dreaming of a built-in grill, a side burner or something else? Then contact us and we will install your favourite grill directly into the table. There is of course always the option to place the grill etc. on top of the tabletop, which gives an additional flexibility if these elements need to be replaced or changed out with another design if need be.
Contact us here and let us create your dream kitchen for you!
"The outdoor kitchen has everything we need and creates an exclusive and beautiful enviroment on our terrace. If only I could grill and use the outdoor kitchen every day."
/ Henrik, Savra with sink and back wall