Rustic and unique plank tables with a story to tell
At Thors Design we make plank tables from reclaimed bulwark sourced from decommissioned Danish harbours. Every piece is made by hand, with a deep respect for the wood's unique history. Our plank tables are rustic and robust, they are alluring, and known for creating a particularly special atmosphere in any space. Each table is absolutely unique. Your table would be made for you, in your dimensions and with just the amount of rustic details that you have requested.
Find your new plank table here
Explore our most popular plank tables.
All tables are tailored for you based on your wishes for dimensions and rustic expression.
"We don't just sell furniture. We sell a piece of Danish history"
Rustic plank tables made from reclaimed wood from Danish harbours
Plank table made from quality materials
Our tables are made from reclaimed bulwark, from the decommissioned Danish harbours. The wood is called Azobé. Heart wood from Azobé trees has always been used in harbour building around the world because of its unique strength and water-resistant qualities.
It is an exceptional material that quite naturally provides some quite amazing properties. We can name just a few:
Long life expectancy
No surface treatment necessary
Water-resistant
You can therefore use your plank table both inside and out, and you don't need to worry about coasters, placemats or stains from red wine.
Upcycling and sustainable wood
Upcycling is the founding principle of Thors Design. We began our journey with upcycling back in 2002, after Carsten Thors fateful meeting with bulwark from Korsør harbour. Carsten's sound common sense convinced him that a good resource should not be wasted, just because it would be cheaper and easier to work with new wood.
This led him to research and investigate other alternative possibilities, that would allow him to make use of the wood in a beneficial way. Read more about this journey here. (link skiftes)
Upcycling has simply become our mission and DNA. Our thoughts and actions as a company are always centered around the idea of how we can bring obsolete quality materials back in to circulation, so that they once again can become of value to people, whilst at the same time ensuring that we aren't burdening the environment by using even more new resources.
Danish production with a focus on social responsibility
Our wood is sawn in to planks at Møltrup reception home, a place for men who have previously been homeless, and need somewhere to stay where they can get back on their feet. Here, they experience the feeling of belonging again, and of being an important part of a working community whilst also being supported and guided when necessary.
We are both proud and delighted with our cooperation with Møltrup, as it ensures that we are able to keep our entire production process in Denmark (indeed, it is all within a 10 km radius of Vildbjerg). At the same time, we are able to support a vital project for vulnerable men existing on the fringes of society and making their way back to a fulfilling life.
Unique plank tables, tailor made for you
We live by the motto: "anything is possible, if our raw material allows it".
This means that you can order your table with the exact dimensions, leg type and surface finish that you require.
As standard, you can choose the table's length, width and surface (sanded or rustic) To make it a little easier, we have divided the tables in to some standard sizes, but this doesn't mean that we can't make tables in other sizes. If you would like a table that is 172 cm long, or even 1720 cm long, then go for it! It can be done! Just let us know, and we will make it happen.
It is the same situation, when considering the height of the table. As standard, we make our tables 72 cm in height. Our bar tables are 105 cm in height. If you are the proud owner of some rather long-legged genes, then we can of course adapt your table to suit you and your family. All you need to do, is ask!
The table's surface is a little more complicated. Due to the wood's unique history as harbour wood, every single piece is unique. Therefore, if you have fallen in love with a table we have made, then we must disappoint you, because we simply cannot make another one just like it. But we can make one just as special and unique. Every table has its own very individual look, with unique patina and rustic details in every plank.
What we can do, is divide our wood in to 4 different categories that you can choose from, each with its own look.
Plank tables with sanded planks:
Sanded tables will usually be made without rustic ends and historic details. In contrast to the other category, these tables are made from the wood that is cut from inside the large pillars and has therefore never been exposed to the harsh elements. The planks can therefore be likened to new wood. The table legs will however still present with patina and rustic details.
Plank tables with rustic surface:
The planks will generally present with a certain amount of rustic details such as cracks, crevices, holes and rustic ends. Each plank will also have its own unique patina. These planks are cut from the outer layer of the harbour wood and has been directly exposed to the elements: wind, weather, and incoming ferries. The amount of rustic details in the plank is defined as small, medium and large, where planks with the most details being defined as rustic large.
Create soul and atmosphere in your home
Modern interiors often feature high gloss surfaces and sharp lines. These things create a clean and tidy, but also impersonal expression. They do not therefore create any atmosphere in the space. Atmosphere can be difficult to describe. You can feel it when it is there, and also absolutely when it is not. It can however be difficult to be sure, what exactly makes the difference.
One thing that there is evidence for, is that natural materials can create atmosphere. Atmosphere can be described as what arises when the eyes and the soul feel calm. So where sharp lines and high gloss cause the brain to work overtime, organic forms, plants and natural materials work together to ensure peace of mind.
If you wish to create atmosphere in any space, just add wood, concrete, metal, green plants, rustic surfaces and organic forms.
This could well be why plank tables have been so popular these last few years. Plank tables often have a central place in a space and naturally introduce a large amount of natural materials in just one piece. It attracts the eye and becomes the center piece accommodating family dinners and other activities.
Our plank table has a strong advantage when creating atmosphere. The table is not treated and after it has acclimatised, it does not require any kind of special surface treatment. The table simply exudes the natural depth and warmth of the wood. If you choose a plank table with a rustic and more organic surface, then this effect is even stronger.
Leave a wall unplastered, choose a raw concrete floor and add some green plants. (e.g. using these wall-mounted and self-watering plant boxes from Squarely), and you have created a great atmosphere already.
Plank tables with a story to tell
Would you like to stand out from the crowd? Would you like to own something unique that reflects your personality? If so, you are in the right place. Our plank tables cannot be compared to others on the market. Not only do they invite nature in to your home, with the rustic, robust planks, they also ensure a unique presence, you can sense the history in the planks, when you feel and see the real historic details.
The table attracts the attention of your guests, as soon as they see it. It immediately becomes a conversation piece, with its strong natural feel and obvious historic details. The table will not only attract their eyes, but also their hands. There is a natural desire for them to let their hands run over the uneven, organic and rustic surface, feeling every crack, crevice and even hole.
We have seen it so many times. When we are at an exhibition, we don't need to do much to attract people on to our stand. They come of their own accord. And our classic exhibition kit includes tweezers, to help our visitors with the splinters that are inevitable, when people can't resist running their hands along the rustic patinated surface of the table, feeling the natural historic details and enjoying the tactile sensation.
The legs are cut from the outer layer of the bulwark, and therefore include many rustic details. They can often include nails, holes and even robust bolts and washers used to connect the pillars in the harbour.
They will stand in your home, as a monument to Danmarks history as a seafaring nation, when the harbours served as the primary channel for car transport between our many islands. They will silently tell of times gone by. Times when the harbours were silent witnesses to when swing dresses and chiffon scarves were replaced by spaghetti straps and dyed hair, Minis by Fiat Puntos, all until the bridges changed Denmark in one fell swoop, making the country seem smaller and car ferries redundant.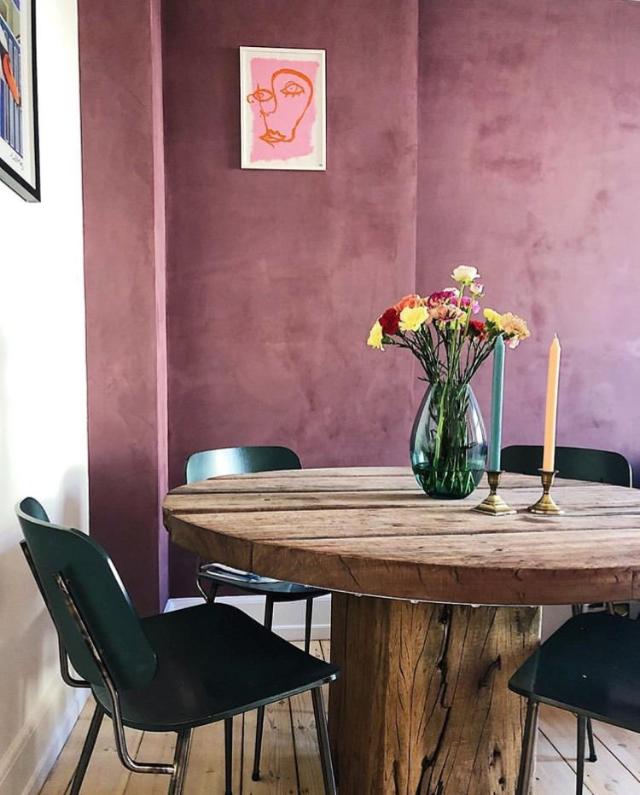 "Just got home from Italy and saw the table. It's simply gorgeous.
It's world class and we are so thrilled"
What size table should I choose?
We all know how it is. Deciding what size table to buy can be a challenge. Especially when everything is possible with it being made to order. We do want to try and make it easy for you though, so here is a guide to help you make the decision about what dimensions you want:
Number of seats and elbow room
Rectangular plank tables
A good guide is to calculate that a chair or guest requires 60 cm. A table that is 180 cm in length therefore allows seating for 8: 3 on each side, and 1 at each end. If you would like a little more elbow room for each guest, then a table that is 200 cm in length would be perfect for 8 people. If you have chairs with armrests then you should calculate with an extra 10 cm per chair or person.
As regards the width of the table, then 90 or 100 cm is the width that we make most tables in. If the table is shorter that 180 cm, then a table in width 60 or 75 cm can give a more elegant look whereas tables over 300 cm in length can be made with a width of 120 cm which also allows room for 2 smaller guests at each end.
Round plank tables
A round plank table allows for more seats using less space. They also have the advantage that your guests are closer together and it is therefore easier for them all to communicate with each other.
A table measuring Ø120 cm allows room for 5 – 6 guests, depending on the desired amount of elbow room. A table measuring Ø180 cm allows for room for 8 - 10 guests.
Table height
As standard, our tables are made in a height of 72 cm. This height suits the seat height of typical dining chairs which is 45-46 cm. In many countries, especially in southern Europe, chairs are a little higher. Many of these chairs are making their way in to our homes and we can of course adapt the height of the table to suit any chair you like. So if you have a chair with a seating height of more that 45-46 cm, then we recommend that you add a few centimeters to the table legs.
Caring for your plank table
Our plank tables are made to be used and enjoyed. The azobé wood gets more beautiful with time, the more it is used. It requires very little maintenance once it is acclimatised. Here are a few tips for how to clean and care for your plank table.
On delivery
When you receive your table, we recommend that you give it a treatment with soapy water. This makes the surface a little softer to the touch and also helps protect the surface a little.
Mix soap flakes with warm water until it has a creamy consistency. Work the soapy mix over the table surface and then dry the surface off with a lint free cloth.
Any left-over soap in cracks and crevices in the table surface can be removed with a wet scrubbing brush.
Acclimatisation
A few weeks after receiving your plank table, the table will start to acclimatise. This means that the wood is adapting to the new environment. The wood can react and the fibers can lift slightly making the surface rough. This can be rectified using the sanding pad or sandpaper or even an electric sanding machine, using sandpaper with corn size 120-240 cm.
It can be necessary to repeat this process again during the acclimatisation phase, which can last up to 6 months.
Daily care
Due to the table's organic surface, the easiest way to keep your table free from crumbs on a daily basis is by using a little table brush or even a hand-held vacum cleaner. Should you have candle wax on your table, then this can be scraped off or removed by using sand paper, sanding with the grain.
The thorough clean
Almost all the marks that can appear on a table with use can be removed using an alkaline cleaning solution.
Dissolve the cleaning solution in warm water and using a scrubbing brush, work the solution in to the table and especially where there are marks. Let the table surface dry off and then repeat the process with soap flakes as described above. Once the table is dry, it is ready to be used again.
Advantages and disadvantages of our plank tables.
You know it well. When you are facing a difficult or important decision, you often take to pen and paper and prepare the classic and indispensable pros and cons list. To save you time, we have already compiled a list for you. Here you go:
ADVANTAGES:
Your plank table is made from heartwood from one of the hardest types of wood in the world. It will remain beautiful for generations to come.
The table is made to order, according to your unique requirements regarding dimensions and rustic detail.
Your rustic plank table will work to break the high gloss culture that defines the design approach in many homes, ensuring soul, personality and atmosphere in your space.
You will not find a table that is the same as yours anywhere in the world. Every centimeter of the wood is unique with its own special patina and historic details from the time it has spent in the harbour environment.
The table attracts attention, your guests will not be able to resist running their hand over the table surface, feeling the cracks and marks over and over again.
The table is handmade in Denmark, the wood is sawn at Møltrup farm, from reclaimed resources. The table is one of the most sustainable pieces of furniture you can buy.
It has a clear story to tell and without effort, it immediately becomes the topic of conversation as soon as anyone walks in to the room.
Should you wish to change your dining table in to a bar table, or if you are downsizing, the we can help you adapt your table to your new needs.
The table's simple design and the standardised measurements of the planks regardless of the design allows for many possibilities. We can modify and change the legs of the table for a reasonable price.
If you are tired of the table in your dining room or kitchen, then move it outside! The wood can easily tolerate this. Azobé wood is so dense and has such a high natural of content of natural oil, that it is virtually impermeable. You don't need to worry about fungal infection in the wood and the plank table can stand outside without the need to be covered. It would however be a good idea to change the brackets under the table to ones that are galvanised. We can of course both deliver these brackets and also re-assemble the table if you wish.
DISAVANDTAGES:
Every time the family is gathered around your table, you will have to hear the children discussing who will inherit it.
Times and trends change. But don´t worry, your table will continue to be as good as new. Luckily, due to the simple design of our tables, they fit perfectly in to any interior style, from Art Deco to Nordic, to urban living, vintage and bohemian. Our designs have proved to be timeless and fit right in, regardless of the current trend.
As if there aren't enough decisions to make, you will now have to decide how wide, long and high your table should be, as well as what kind of surface it should have. We have made this easy for you, though, by producing our products in some standard dimensions that you can choose from. But everything is possible. So you don't have to stick to these standard measurements. Just get in touch if you have specific requirements for your table.
You will no longer be like everyone else. You will have to be prepared to stand out once you have one of our tables.
You will have to ensure that you always have a pair of tweezers on hand at all times. Your guests will not be able to leave the table surface alone, running their fingers over it and most likely ending up with a splinter in a finger or palm.
You find yourself having to tell your guests about the table and its unique history again and again. You can see and feel the wood's history in the planks.
If you are someone who likes to change your interior regularly, then investing in a plank table from Thors Design that becomes more and more beautiful as time goes by might not be for you. Luckily, we can offer to change your dining table in to a coffee table, bar table or something similar, or you can even move your table outside. We have often seen our tables being sold second hand for virtually the same price that they were bought for.
How can you use a plank table?
A plank table can be used in so many ways. We sell tables to private and corporate customers, hotels and restaurants as well as the public sector. Our plank tables create atmosphere, theyclearly state that you are serious about the sustainable agenda and that you are keen to create unique and exclusive spaces.
In the corporate sector, our tables are used as
Café table
Dining table
Conference table
Meeting table
In these locations:
A café
A restaurant
A foyer
A kantine
A reception
An kontor
A meeting room
A conference center
A shop
Whereas plank tables in private spaces can fulfil may uses:
Dining table
Coffee table
Bar table
Desk
High table
Console table
Garden table